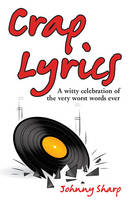 Okay, so I've always wanted to be a rockstar.  I know, I know, not a very original aspiration to have and librarian-rockstars are few and far between but that's why they're called "dreams".  So naturally my eye was taken by the following recent acquisitions to the library collection.  For what hath a librarian-rockstar if not the urge (and skill) to research her dream profession?
Battle of the band names : the best and worst band names ever and all the brilliant, colorful, stupid ones in between – This is required reading because there's no way I'm going to be able to coast to rockstar supremacy on the back of my own mediocre talent. I will need a band and getting the name right is trés important.  To be fair this is a bit of a one joke book and the sort of thing that you can just dip in and out of but having said that there are plenty of noteworthy additions.  My personal favourite?  John Cougar Concentration Camp.  Oh, and Kiwi bands like The Formyula are included (for bad spelling probably, tsk).
Crap lyrics : a celebration of all the very worst pop lyrics of all time– ever! – Once I have my imaginary band we will necessarily have to write some songs (though we won't be so much "pop" as synth-dub-barbecue reggae-neopunk). It might be nice to know what to avoid in terms of lyricism. When you think about it most pop lyrics seem to be a bit crap, don't they? I mean even the hallowed Beatles were fairly banal in their day.
Love love me do, you know I love you, I'll always be true. So ple-ee-ee-ease, love me do.
Now that I think about it, even the syntax is a bit skewiff in that one.  So even the rock greats can pen some howlers from time to time and this book is just the one to point at the naked rock 'n' roll emperor and tell him to get his kit on.
The complete idiot's guide to starting a band – 'Nuff said?
So, any nominations for worst band name or crappest ever lyrics?