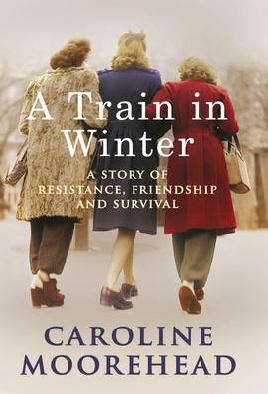 Just so you know upfront, I shed a few tears at this Auckland Writers and Readers Festival event.
Caroline Moorehead got involved in Human Rights because she was plagued by the question:
How can we as a species treat our fellow human beings with such cruelty?
We learnt of her early experiences reporting on human rights infringements and of her growing involvement with refugees and the almost paranoid xenophobic reaction that the mere word "refugee" inspires. She protected us from the worst horrors that she had witnessed … but still.
Even when our hearts are in the right place, things can go shockingly awry. Like the Dinka refugees (seven foot tall, ebony black people from the heat of the Nile Basin) who, as a result of their resettlement in Lapland,  stood out like very unhappy sore thumbs and who had about zero chance of assimilation into their new home -  mad, mad, mad.
She also chatted to us about her latest book: A Train in Winter. The story of 230 French women who, because of their resistance to Nazi occupation, were "disappeared". Two hundred and thirty women started this train journey to a concentration camp. Only 49 survived. For this book Moorehead interviewed the remaining four survivors and the 169 children who inherited this legacy from their mothers – both dead and alive.
She also scoured old records and praises the French archives that she used in her research. She is not a fan of online research, which is no substitute in her opinion:
There is no pleasure greater than going into an archive, making your request and having old boxes of material delivered to your quiet desk for your perusal.
As a writer Caroline Moorehead tries to emphasis the positive, in the case of A Train in Winter it is the formidable bonds of friendship that pulled the women through the worst atrocities.
When asked what "good guy " countries (like Australia and New Zealand), could do to help with these human violations, she said sadly:
I'm not sure there are good guys anywhere anymore.