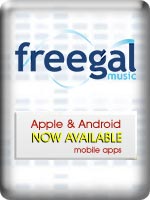 I am a Freegal virgin no more. When I first learned of this, I was intrigued by the idea downloading free music. It made me think I could join the hip young things I know who don't think twice about downloading music, videos and movies – but this was legal and legit and did I mention free?
Sitting on my couch one night recently with my laptop (Ok I was watching Britain's Best Home Baker at the same time), I headed to Freegal via the link on the main library web page. First step was to supply my library card number and pin number (if you don't have a pin or can't remember it, pop in to your local library or call the main library phone number – 03 941 7923 and a friendly librarian sort that out for you).
Once I was logged in with my card, the entire Sony catalogue was opened up to me. Think vast and then add some more songs for good measure. Every genre you could think of was there, nicely listed down the left side of the page, from the latest hit to obscure Bolivian music, and you can also find an artist alphabetically. I like slightly obscure stuff, Appalachian Mountain Music for one, and there it was.  Not knowing which of my favourites were signed by Sony meant I had to trawl a bit, but by doing that I found some fascinating stuff.
There is a limit of three songs per person per week, so I guess if you wish to download a whole album, it might take a few weeks, but I quickly downloaded three odd companions, KD Lang's stunning version of Leonard Cohen's Hallelujah, the new duet by Pink and Nate from 'Fun' ' Just give me a reason' , and an obscure American bluegrass song.
Roll around next week when I can download three more!
Have you given Freegal a go yet? What have you found and downloaded?