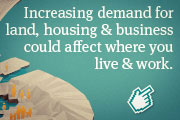 The Christchurch City Council is reviewing its district plan – incorporating the Christchurch City Plan and the Banks Peninsula District Plan – which sets out the provisions governing the use of land. You can review the seven draft chapters (with accompanying maps and definitions).
Consultation documents are available at your local library, and you can also use our free computers to submit your feedback.
Find out more
Email dpreview@ccc.govt.nz
Phone 03 941 8999
To give feedback to the Council
Talk to the planners at public meetings
Email dpreview@ccc.govt.nz stating the chapter, section and clause being referred to if you can.
Upcoming meetings
Wed, 12 March 2014 5.30–7.30pm
Lyttelton-Mt Herbert community
Main School, Oxford Street, Lyttelton
Wed, 12 March 2014 5.30–7.30pm
Spreydon-Heathcote community
Cashmere Club, 50 Colombo Street, Beckenham
Tue, 18 March 2014 5.30–7.30pm
Shirley-Papanui community
Papanui Baptist Church, 144 Sawyers Arms Road, Northcote
Tue, 18 March 2014 5.30–7.30pm
Memorial Avenue/Russley Road Industrial Park zone
Russley Golf Club 428 Memorial Avenue
Wed, 19 March 2014  5.30–7.30pm
Fendalton-Waimairi community
Aurora Centre, Burnside High School, 151 Greers Road, Burnside
Thu, 20 March 2014 5.30–7.30pm
Burwood-Pegasus community
Chisnallwood School, 76 Breezes Road, Avondale
Mon, 24 March 2014 5.30–7.30pm
Merivale commercial centre
Knox Church Hall, 28 Bealey Avenue
Mon, 24 March 2014 5.30–7.30pm
Cookie Time Templeton
Industrial Area Templeton Primary School, 40 Kirk Road, Templeton