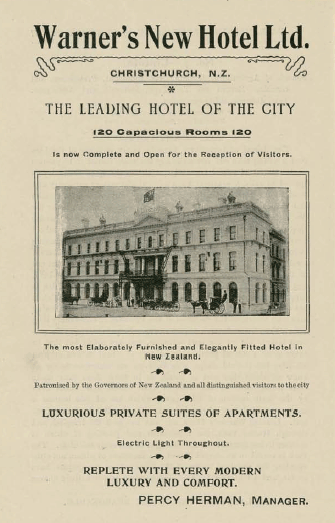 Warner's Hotel The Cyclopedia of New Zealand [Canterbury Provincial District] in the NZETC. 1903:
As a piece of architecture, "Warner's" is an ornament to Cathedral Square, a handsome addition to the city, and one of the finest hotels in New Zealand …

The main dining room, which is one of the largest and handsomest in the colony, faces the main entrance, and has room for 200 guests. In the daytime this room is lighted by skylights, but at night innumerable electric lights of various colours, playing upon the rich display of silver plate and specially imported glassware on the tables, give to the whole apartment a look of extreme elegance. The dining room generally has been furnished with good taste and luxury …

In the northern end of the buildings, and completely cut off from the private portions of the establishment, are the public and private bars, fitted with handsome cedar fittings and bevelled plate glass mirrors. The public bar is a large and handsome apartment furnished with numerous luxurious couches, upholstered in crimson velvet. A smaller private bar adjoins, equally well appointed, and both are equally supplied with the choice wines, liquors, and cigars, for which "Warner's' has so good a reputation.

At the back, and separated by a splendid system of lavatories, is the fine billiard room, fitted with two exhibition tables. The approach to the upper stories is by a broad staircase carpeted with heavy Wilton carpet and with brass mountings …
Search the catalogue for more photographs of  Warners Hotel.
— — — — —

We have digitised a rather splendid 1902 publication Tourists' guide to Canterbury.

I will share some of the interesting ads and pictures from it in a series of posts - there's lots of information about local businesses and places in 1902.