19 September 1865
South Island Separation Bill defeated in Parliament by 31 votes to 17.  Find out more in Papers Past, including report on the Separation Debate, Daily Southern Cross, 21 September 1865.
19 September 1904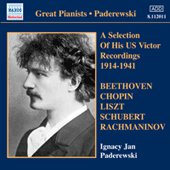 Concert by pianist Jan Paderewski. He later became Prime Minister of Poland. Read Bernice's blog post on President Paderewski.
20 September 1916
Canterbury Aviation Company founded by Henry (later Sir Henry) Wigram. Read The First hundred pilots – a brief history by Henry Wigram recounting its beginnings.
21 September 1867
Trout introduced from Tasmania. The ova were reared in special covered ponds built in Hagley Park next to the hospital. Salmon were introduced a year later.
23 September 1914
First Canterbury contingent sails on Tahiti and Athenic from Lyttelton for the war in Europe.
23 September 1977
First Vietnamese refugees arrive in City.
More September events in our Christchurch chronology.