A celebration of  the life and work of Hirini Melbourne, who with long-time musical partner Richard Nunns recorded Te Hekenga-ā-rangi just before Hirini's death. Featuring new instruments, new techniques, and the crucial additional element of the female voice (sensitively provided by Aroha Yates-Smith).
Te Hekengaā-rangi were an ancient people, said to have originated in the heavens and then to have occupied Aotearoa. The name encapsulates the sense of voices or sounds being relayed from the spiritual realm, from the very gods themselves. Embodied in stones, shells and nature itself are female deities whose stories are woven into this journey of song. Strands of this recital encompass Tāne's ascent to the heavens and his eventual return to Papatuānuku.
This album (and over 52,000 more) is available online for free from anywhere with your library card number and PIN.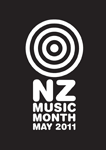 For New Zealand Music Month we are featuring a daily dose of free online New Zealand music from Naxos Music Library and the Source.