alt="Death and the Maidens"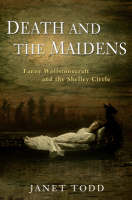 Another new book on the Shelley-Byron circle is on its way to the Library. This is a well mined subject, but author Janet Todd's book Death and the Maidens takes the perspective of the one of the more sidelined characters – Fanny Imlay Godwin (half sister of Mary Shelley). She committed suicide in 1816 and Percy Shelley wrote a poem On Fanny Godwin lamenting her demise.
There are many fascinating women associated with Shelley and Byron. In The bride of science : romance, reason and Byron's daughter, Benjamin Woolley looks at Ada, Countess of Lovelace. She is famous not only as the daughter of Lord Byron, but within computing and scientific circles. The computer language Ada, created by the U.S. Defense Department, was named after Lovelace. See our Library resources on Ada.
Mary Shelley is the most well known of this group. She began to write Frankenstein while a teenager. Her mother Mary Wollstonecraft is known as a writer and feminist philosopher who posited the idea that women are not naturally inferior to men, but appear to be only because they lack education. Her seminal work is A Vindication of the Rights of Woman (1792).
Claire Clairmont (stepsister of Mary Shelley), Augusta Leigh (Byron's half sister) and Annabella Millbanke (Byron's wife) are three more intriguing characters in this story, and they have fascinated writers of both fiction and non-fiction.alt="" (more…)